Northern Ireland started their qualifying campaign for the 1986 World Cup by losing to part-timers in Finland but they ended it by triumphing at Wembley
By Steven Pye for That 1980s Sports Blog, part of the Guardian Sport Network
When the draw was made for the 1986 World Cup qualifiers, the English press said it would be "easy pickings" for their side. Bobby Robson's team only had to finish in the top two of a group containing Romania, Northern Ireland, Finland and Turkey, but the manager urged caution, saying: "Romania are the dark horses and will be a danger, but Northern Ireland will be tough when you consider they have beaten West Germany twice in a year and did wonderfully well in the last World Cup."
Not only had Northern Ireland made it to the 1982 World Cup but they had also just won the last ever British Home Championship. However, all that positivity evaporated during a lacklustre performance in Helsinki. Billy Bingham's team conceded a sloppy goal after 55 minutes and were listless throughout. Finland, with seven part-time players in their team, deservedly picked up just their second victory in 23 internationals.
"We have been beaten by a Finnish team that everybody else will take apart," said midfielder Sammy McIlroy. "I can't imagine England or Romania losing anything to them either home or away." Fortunately for Northern Ireland, McIlroy's pessimism proved unfounded.
In fairness to Northern Ireland, the Finland defeat had taken place at the end of a long season, just five days after their final Home International against Wales. But it left them with very little wriggle room in the group. The matches against Romania now took on extra significance, with Northern Ireland expected to struggle against a nation that had qualified for Euro 84.
The tag of underdog seemed to sit comfortably with Northern Ireland and Bingham's side always upped their game when faced with a challenge. "We fear no one there," said Bingham before the Romania game, when asked about his team's fine record at Windsor Park. With four consecutive home games in the qualification campaign, the hope was that the fortress could work its magic.
Unable to cope with the wave of attacks and aggression of their opponents, Romania's five-man defence was simply suffocated. The only surprise was that it took the hosts 33 minutes to break the deadlock, with Gino Iorgulescu slicing horribly into his own net. Gheorghe Hagi capitalised on a poor clearance from Pat Jennings to equalise, but goals in the second half from Norman Whiteside and Martin O'Neill were just reward for a fine performance, with Romania flattered by the 3-2 result.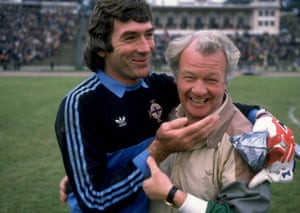 Next up was a revenge date with Finland. Injury concerns surrounding Jennings, McIlroy, Whiteside and winger Ian Stewart, made Bingham delay the naming of his squad by 24 hours before they all passed fitness tests to take their places in the starting XI. Forward Billy Hamilton was not so fortunate, however, handing Blackburn's Jimmy Quinn a chance. On a nervy night, Mika Lipponen, a trialist at Southampton, fired Finland ahead after 21 minutes, only for Quinn to miss a decent opportunity to level matters.
Quinn must have been relieved when John O'Neill headed in an equaliser just before the break. The winner came when Whiteside, who had been a constant thorn in the side of Finland, was hauled down in the area, with Gerry Armstrong converting the penalty. The hard-fought win had given Northern Ireland hope before the visit of England three months later.
"Their victory owed more to determination, hard work and, in the last half-hour, some nail-biting moments in defence, than flowing football," wrote Peter Ball in the Times. There would need to be plenty more of that in the remaining qualifiers.
Even at the grand old age of 19, Norman Whiteside was vital to his country. So Northern Ireland were mightily relieved when Fifa decided to overturn the yellow card he was given for an over-exuberant celebration against Romania, meaning he was no longer suspended for the visit of England to Windsor Park.
Sadly, Martin O'Neill did not make the team, the Northern Ireland skipper suffering a knee injury that would end his career, with Newcastle's David McCreery coming into the side. Jennings had been out of Arsenal's first team for three months but such was his stature that Bingham had no hesitation in picking the big man.
"England are going to feel they are up against a team of 11 Barry McGuigans battling in King's Hall," said Bingham before kick-off. England would give as good as they got, though. In front of 28,000 fans in Windsor Park and millions watching live on BBC1, the match developed into a bit of a scrap. It was "more of a domestic squabble than an international of quality," wrote Stuart Jones in the Times; Frank McGhee described it as the "worst international he had seen in years" in the Mirror.
England rode their luck, Armstrong later claiming that Robson's men were "the luckiest team in the world." You could understand his disappointment. Twice the home team hit the woodwork and England hardly tested Jennings. But with just 13 minutes remaining, Milan's Mark Hateley fired home a winner.
"We gave them more problems than they gave us," said Bingham. "And you can imagine how extremely disappointed we are." With two games against group whipping boys Turkey to come, they had a chance to recover and move into a handy position before the big tests in Bucharest and London. But anything less than maximum points would leave them requiring snookers.
Injuries again disrupted their preparations before the Turkey to Windsor Park. Hamilton was still ruled out, as was Armstrong after picking up an injury in training, so Blackburn's Noel Brotherston came into the side. Jennings may have received a commemorative watch for reaching 110 caps – a record for the UK nations at the time – but news that he had been released by Arsenal left some wondering whether this would be his last appearance for his country.
Two goals from Whiteside gave Northern Ireland a 2-0 win but it had been an unspectacular performance and the goalscorer picked up a booking that would rule him out of the return return fixture in Izmir. "These were two valuable points," Bingham stressed. "Now we have to win two of our three remaining away games to get there."
The job looked a great deal harder after a poor display in Turkey. Plane problems had meant the team took 10 hours to arrive at their hotel and Bingham's plans had already been thrown into disarray with the late withdrawal of Stewart. Brighton's Steve Penney was brought in for just his second cap but the team lacked punch without Whiteside. Armstrong missed the best chance of the night but a superb Jennings save from Metin at least secured a point.
"It's not the end of our chances yet and it was a good team performance," said Bingham none too convincingly after the match. "We showed we are a hard team to beat." That may have been true, but realistically Northern Ireland now needed a win and a draw from their final two group matches to make it to Mexico. Just as with Euro 84 qualification, it looked as if disappointment in Turkey would prove fatal to their dream of making the finals.
With two games to go, the odds were stacked against Northern Ireland. With England two points clear and preparing to face Turkey at Wembley, it boiled down to a straight fight with Romania for the final qualification spot. Although both countries sat on seven points, Romania's superior goal difference meant that even if Northern Ireland won in Bucharest, they would probably still need a draw at Wembley to progress, due to Romania playing Turkey in their final match.
Bingham welcomed Stewart and Whiteside back into the fold for the trip to Bucharest, but elsewhere it was bad news, with John McClelland, Paul Ramsey and Hamilton all ruled out. Jennings, now back at Tottenham, had not played a competitive club game since November 1984.
It may be a cliché to say that class is permanent, but Jennings confirmed this throughout a match in which his goal was under siege. Playing a 4-5-1 formation, Northern Ireland created a few chances in the first half and snatched the lead after 28 minutes through Quinn. From this point on, the afternoon developed into the very definition of a backs-to-the-wall performance.
Jennings denied Hagi, Mateut, Geolgau (twice), and Rednic at various points and, even when he was beaten, Jimmy Nicholl cleared the ball off the line on two occasions. Wave upon wave of attack bashed against the Irish barrier but Romania could not find a way through. A fantastic rearguard, every bit as impressive as Valencia 1982, had kept the dream alive.
The praise flooded in for Jennings. "I take my hat off to Pat," said Bingham. "He was absolutely super." Yet Jennings was just one of 13 heroes. Debutant Alan McDonald was outstanding. "I never thought there was a risk with McDonald," added Bingham. "He's so confident and without fear." Quinn also earned plaudits for his lone role up front. Bingham knew it had been a collective effort, though. "They were all magnificent, bloody marvellous." His players would need to demonstrate the same determination just a month later.
Not only was the match at Wembley important from a footballing perspective, but the financial implications of missing out on qualification were also a major concern. With no more Home Championships, Northern Ireland desperately needed to qualify for a major tournament. "Getting to Mexico would be our salvation," said IFA president Harry Cavan. "It's our lifeline, no less," added Bingham. No pressure then.
The build-up to the Wembley clash was dominated by talk of old-pals acts and match-fixing. With memories of the West Germany-Austria debacle at the 1982 World Cup fresh in the memory, Bobby Robson was determined to quash any rumours of a collaboration, saying: "Northern Ireland must earn a result through merit. We will play in a highly competitive manner."
However, the murmurings gathered volume as the match neared, and naturally, suspicions grew during and after the match that a deal had been struck. Chants of "It's a fix" and "What a load of rubbish" were heard from the terraces, and after the match there were reports that the Romanians would lodge a complaint.
Bingham's men had to fight for their point, though. Kerry Dixon and Gary Lineker both missed good chances, McDonald cleared off the line and again Northern Ireland were indebted to Jennings. A great save from a Glenn Hoddle effort and a tip over the bar from a Dixon header ensured Jennings was now forced to postpone his retirement plans.
"Anyone who says this is a fix can come and see me and I'll tell them it wasn't a fix," said a passionate McDonald. "We bloody earned that and anyone who says different is a joke." There may have been a few Romanian eyebrows raised, but the bottom line was that Northern Ireland had beaten Romania twice and fully deserved their place in the World Cup finals.
With more 15,000 away fans inside Wembley to celebrate qualification, the party went on long into the night. And what an achievement it was. Qualifying for his second consecutive World Cup, Bingham had again masterminded a successful campaign. It took Northern Ireland 30 years to qualify for their next major championship, which only emphasises the brilliant job Bingham performed. He and his players created a lifetime of memories and many Northern Ireland fans are eternally grateful. Hopefully Michael O'Neill can do the same for the current generation.
Source: https://www.theguardian.com/football/that-1980s-sports-blog/2017/nov/09/northern-ireland-qualified-world-cup-1986